October 28, 2013
Be Grateful
Today, I stumbled upon a post by Zach Tratar in which he shares an interesting video: The Science of Happiness. (Coincidently, I also ran into a Facebook post by a former colleague, Patty Liska, that intrigued me to write this.) The video shows that gratitude is an important trait to have in order for us to be truly happy. Do you need evidence to believe it? Sure. Psychologists have scientifically proven that one of the greatest contributing factors for overall happiness in our lives correlates to how much gratitude we show. (You can read a study they performed on the subject. The link is available on their site. It's very interesting.)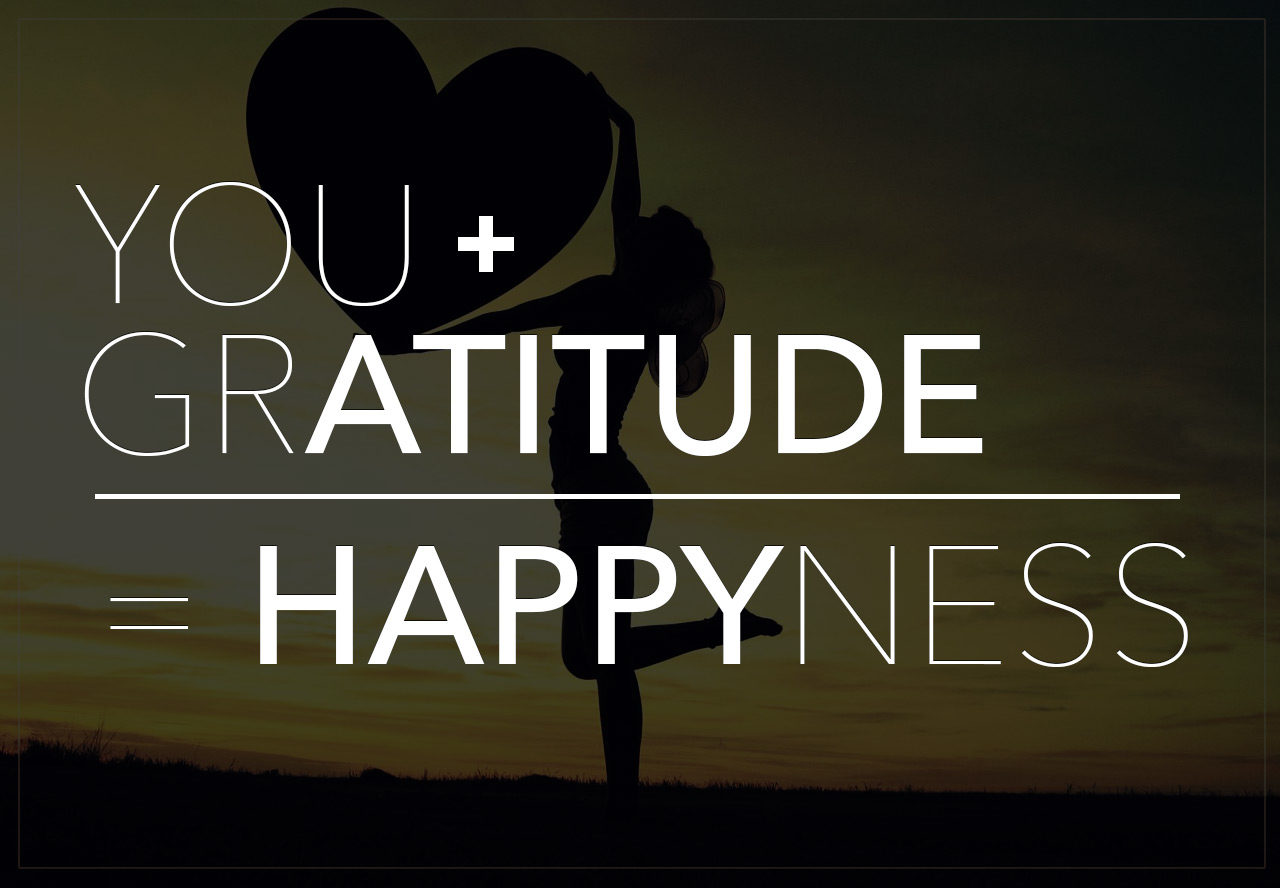 I don't need to see empirical evidence (data) to believe. I believe in it. I always have. But, upon watching the video, I came to a confirmation of how important it is to express it as well, and since I don't remember when I showed gratitude in words on my blog, I decided to express how grateful (and happy) I am. I'm grateful to a lot of people. I'm grateful to people who have been in my life for so long and conversely for so little.
First and foremost, I'm grateful to God for giving me all the blessing that I feel I'm underserved of but He's almighty and doesn't judge me based on my mistakes; He loves me for who I am. I'm also very grateful to a wonderful, joyful and friendly family I've got. I'm grateful to my parents, my mother and father, for always being there for me even when I screwed up badly. It didn't matter. Their love has always surpassed any bad situation I may have contributed to. I'm grateful to my entire family, sisters, cousins, uncles, aunts, nieces, everyone.
My gratefulness (listed below) is for people that stand outside my blood family. People that one way or the other have helped me grow as a person and get where I am today. I'm not bragging. I'm simply being grateful for where I've been in the past, where I am at the moment (unemployed, more on this soon), and where I'll be tomorrow.
I'm grateful for this country for hosting me since 2000. I moved here almost 14 years ago. I didn't speak English. I worked in various jobs as laborer (landscaping, construction, restaurant, cleaning, newspaper delivery), and got yelled at many times by my superiors mainly because I never had to do manual work in my life before so I sucked at it. I went through a lot on my own. It was my first experience being by myself in a country I didn't speak the language. I didn't know the culture; I didnt't have money to go to school; I didn't like winter (still don't but I can bear it now); I didn't know a lot of people, let alone have friends; I didn't know good places to go; I didn't have a girlfriend (although it changed shortly after), and the only road I knew was going and coming back from work. It was hard. Yet, I endured the difficulties and I'm grateful to this country. Honestly, after a lot of ups and downs, I think it was worth it. The experience of living abroad has honed and taught me so much that I'm truly grateful . Thanks United States of America for being such a good, and at times, uncomfortable and strict host.
I'm grateful to all those people trying to make tomorrow a better day. It's really inspiring to see people who really care about their craft; it's inspiring to see designers who really want to make a difference in the world by creating something that will improve people's lives. It's great to see designers who really have a huge desire to impact people's lives positively. It's great to see entrepreneurs who, despite the odds of failing or the criticism of wanting to make a difference instead of just cashing in, are changing the world with their ventures. I'm grateful to those people that life have hit pretty damn hard, but somehow they keep moving forward. It's great to see people's motivation and drive spread in my mind urging me to keep going.
I'm grateful to those people who really changed the perception of design in the world. Design isn't about creating "pretty" things. Design is about improving people's lives. Design educates your eye. Design changes your behavior. Design gives you delight and joy. Design gives you long-lasting gratification. Design makes you feel comfortable. Design solves problems. I'm grateful to people who have pushed the needle on design, and have not been satisfied with the status quo. Design has risen up in the world. Ron Cownway, during the Startup School last week, said: "The world has shifted from algorithm IP to design and interface IP." Thanks to those who contributed to this shift in the world.
Now onto personal gratification.
I'm grateful to have the right people in my life. It was really strange (now I understand it, that's why I'm using the past tense) how people appeared in my life, sometimes unexpectedly, and changed something critical in my life, and made a huge difference. In my life, a lot of good things have happened because of people I wasn't deeply connected to (weak ties). And I only said good things because I don't believe in bad circumstantial things; I see "bad things" as an opportunity to get better and improve.
I'm grateful to all my friends around the world. Sometimes I reflect on friendships, and how each one of my friends have had a purpose in my life. I think I won't ever be able to express my gratitude enough to my friends. They've been incredibly helpful in a time when I needed them the most. To give you a clue, when I got into a car accident 4 years ago, my friends (you now who you are) came up with $10,000 dollars to pay for a lawyer and some expenses. (Disclaimer: though none of them are wealthy individuals with tons of cash who are able to simply write a check. They're middle-to-low-class laborers who work really hard for their money. I'm grateful to a friend who have made my way into school possible, even though I didn't have funds, let alone credit.
I'm grateful to all superiors. This is an interesting one. I've had really sucky jobs and had really arrogant managers, but I'm grateful to all of them. Even more so, for those who gave me a chance to do what I love the most (design) and have kept me motivated throughout the years. I've had bosses that really believed in me and pushed me to do great work even when I doubted myself.
I'm grateful to all my colleagues. When I look back in life I realize how awesome my colleagues are/were. I've had colleagues who also have pushed me to do great work and to be a better a person. I've had colleagues whom I was so happy to be around, and conversely so jealous because I wasn't nearly as smart as they are, and whom the combination of developer and designer played really well and allowed us to create great things, even in less than 48 hours.
I'm grateful to light rails and bus drivers of the Metro Transit transportation in Minneapolis. In all honesty, I never depended on public transportation in my life before moving to Minneapolis. When moving to the Twin Cities, I took on the challenge to take public transportation instead of having a transportation of my own — other than my bike —, and it turns out that taking public transportation has also helped me improve myself and see the world differently. It's mind boggling to me how these drivers are always happy to be picking people up and dropping people off at random stations. It's inspiring to see drivers willingly help impaired individuals get on the bus. Did you know that the bus driver is supposed to help a handicapped person get on and off the bus? Well, I didn't, and they do it with a smile on their face. Seriously, it's inspiring!
I'm grateful for being a web designer. This one is huge, at least in my opinion. Historically, Web Designers weren't the most sought-after careers in the world. When I was growing up, most parents wanted their children to be a lawyer, or a doctor, or a VP-director of some sort in a prestigious company. Well, I'm grateful because even the perception of being a Web Designer has changed. If you're a Web Designer today, you have the power to literally impact people's lives in a way that few people can — with no debt because you don't need a degree to be a badass Web Designer. Many on this list don't have a degree, but they're changing the economy and improving people's lives. Comparatively, as a Web Designer, you no longer need to be bounded to a 9-to-5 job, sitting at an uncomfortable desk, taking phone calls or taking people's orders. You have the power and the tools at your disposal (assuming you're vested on the web) to create sustainable products that break the barriers of time and burn into the memories of individuals. You, Web Designer, can literally change the course of the economy, change people's behavior, and hopefully change the world.
I'm grateful for the existence of Meetups. This may sound cheesy to some, but meetups are an incredibly powerful tool for strangers with a common interest to connect. Before I moved to Minneapolis, I lived in Boston for 10+ years. The web community in Boston is comprised of arguably the most intelligent people in our industry, if not the world. A few years back when I decided to learn this thing called Web, I joined meetup groups in Boston — we often met at Boston Beer Works — organized by Dan Cederholm and Ethan Marcotte. At the time, Dan Cederholm hadn't invented this alluring platform for designers known as Dribbble (he might have had the idea but I don't think so. I could be wrong though), and his passion for the web was what got me into learning the skills necessary to be doing what he was doing. His writing, on the most efficient way to style HTML elements with CSS on the page, was contagious. His partner in crime, Ethan Marcotte, hadn't come up with this awesome-spreading-cool technique called Responsive Web Design. He was a humble individual with a Literature degree who, like many of us, was trying to learn the web. A few years later, I moved to Minneapolis and the first thing I did upon arriving was to look for a meetup group to join. In my first appearance, I stumbled upon a few like-minded individuals: Ketan Kaddad, David Vinge, Carl Namyst, Bill Hendricks, and Marc Grabanski. Five guys who really love technology, the web, love teaching and learning, and were willing to resurrect a group that was almost dead in the water. About 18 months later, we had a group with nearly 1000 members. Aside from that, we've been able to learn a lot from each other, and from presenters who have shared their knowledge with our group. We've also created meaningful relationships with a lot of people in the Twin Cities in various industries. I'm grateful to our members who make our group awesome every month when we get together. Individually, I've been able to develop a skill I never thought I could have: public speaking. I'm not great but I'm happy to be working on it every few months when I'm given the opportunity to present. Thanks Minnesota Web Design group!
To conclude, I'm grateful to life in general. I'm grateful to be able to walk and bike. I'm grateful to be able to eat and drink. I'm grateful for the little things that I usually take for granted. I'm grateful to you reader who may be a stranger to me, but in some way are helping me continue to write (badly) articles on my blog, and regardless of how you landed here, we're now connected. Being grateful is important but showing gratitude makes a difference in your life.
How about you? What are you grateful for? Who have you expressed your gratitude to lately?
October 23, 2013
Lean UX In The Enterprise
Yesterday, we had the honor to have two experts in combining technology and design come and talk to our meetup group at the MCTC about Lean UX: Erik Mitchell and Joe Williams .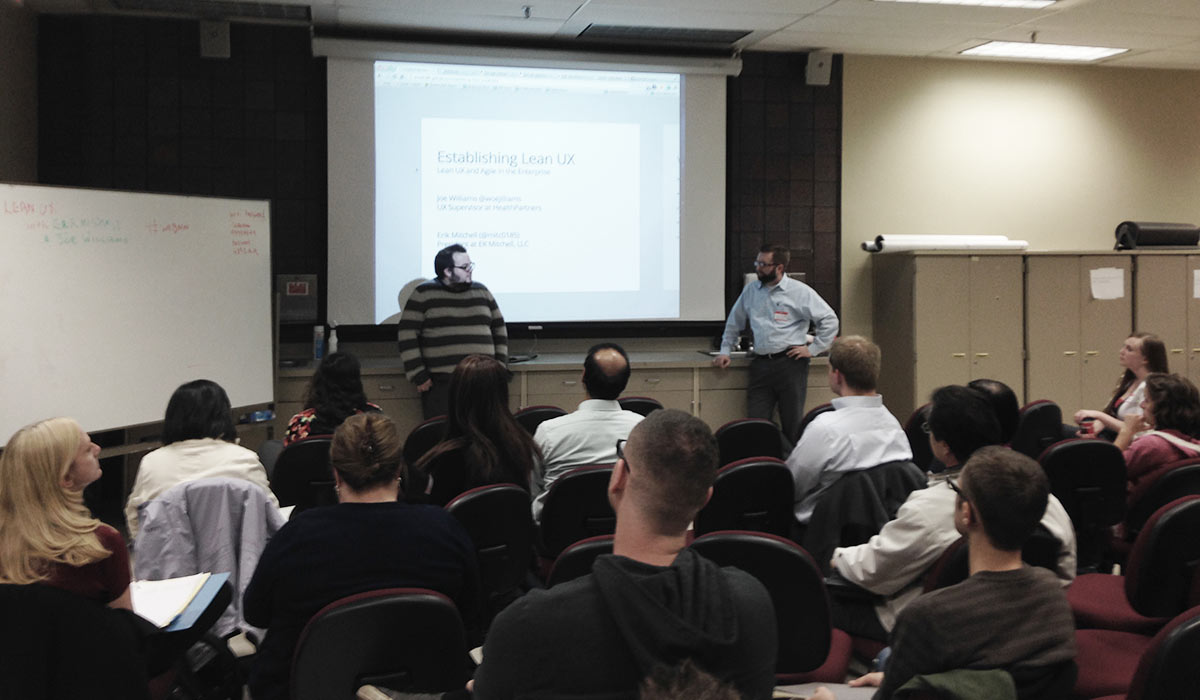 One interesting thing, at least for me, was how well they work together, and I believe it's a result of understanding and applying Lean UX to their process on a daily basis. Before the session began, Erik, a former colleague of mine at Bestbuy.com, and I spent a few minutes talking about Lean UX and most of the time he mentioned his partner in crime, Joe Williams, giving him credit for what they've accomplished together. I think that the fluidity in which they work together has also set themselves for great accomplishments in the corporate world.
Joe started off by explaining what UX Design and lean principles are, then Erik joined to chat about how to put the two together. Erik went in details of how to integrate agile software development with design and then they talked about how they've done it at HealthPartners.
"There's always tension between design and technology. Lean UX is about achieving more with less." Erik Mitchell
Truth be told, if you've worked for any big corporation chances are you have seen this tension in person, which often bogs down work, delays launching products, pisses people off, and the fullfilment that comes with seeing a product you worked on lauching evaporates. This tension endeds up causing detriment to the user experience, which affects the bottom line of the company.
One way that they addressed this tension was by having a more collaborative workflow — cutting the fat — between designers and developers at HealthPartners. "Everyone owns everything" Joe said. "There's no one team owning design; everyone owns design and we welcome everyone involved in the product development (product managers, designers, developers, stakeholders) to take ownership of the entire process and possible problems."
Having read The Lean Startup by Eric Ries and UX for Lean Startups by Laura Klein and being an advocate myself, last night's talk aligned well with how startups in the Valley and across the country are applying these principles to validate the problem, market, and product. Two startups that come to mind are Intercom and YesGraph. They are very outspoken about their process and engage readers to share their opinions/experiences in the comment section. (I strongly recommend reading their blogs.)
"It's also about getting everyone involved to design the best solutions for our customers. It's our job to be an advocate for our customers." Joe Williams
One thing that I've heard a lot in blogs, Twitter and corporations is the confusion that exists between Lean UX and UCD. Although Lean UX inherits a lot from UCD, Lean UX is not the same thing as UCD. UCD doesn't have/use strong opinions on frequent iteration, validating hypothesis and agile methodologies.
The biggest takeway for me is that we, designers and developers, need work together collaboratively, let go of our passion for pixel-perfect designs or bug-free algorithm, and focus on the user by validating the problem, idea and market. If there's no users using your product, it doesn't really matter how badass your app is.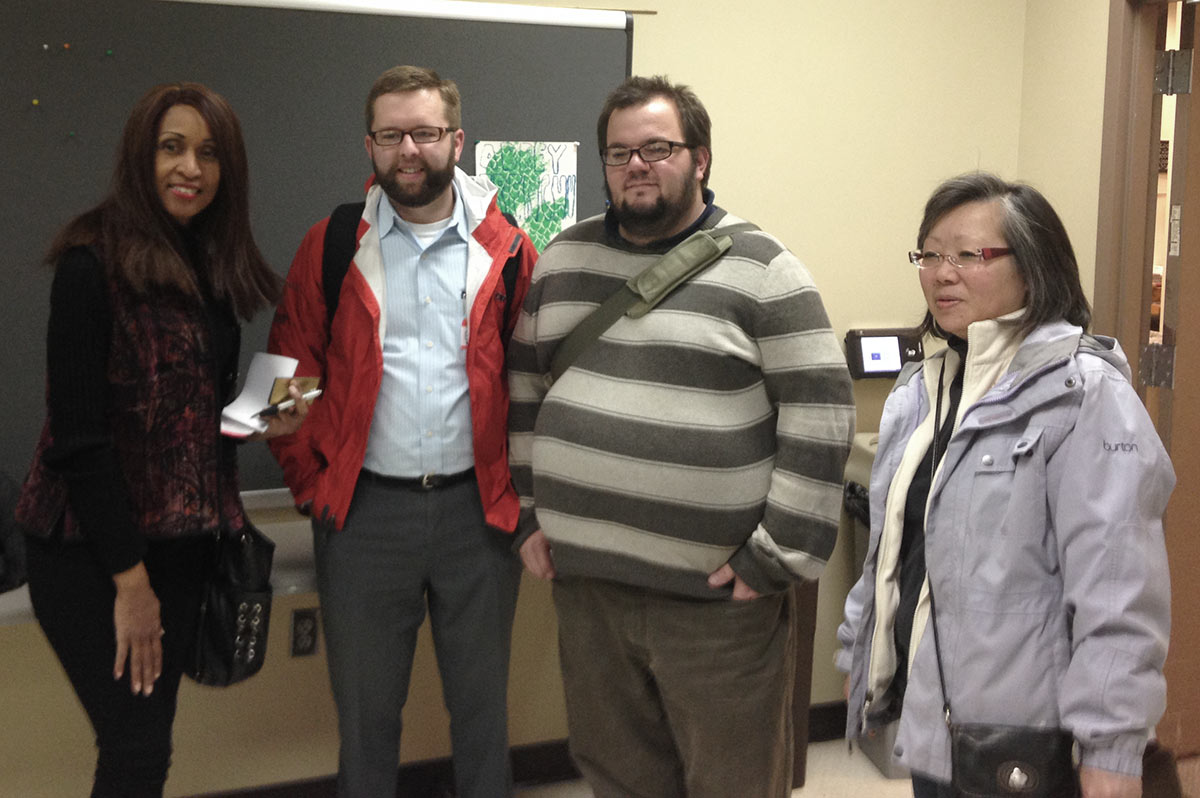 Lastly, our Minnesota Web Design Group is growing with nearly 1,000 members and we, organizers, are very excited about where we're at today. When we started we were only a few members and four organizers with a group doomed for failure. Today, we're growing strong and have plans to make our group even bigger not only in size but in content as well. Without each one of you, we wouldn't be able to talk about what we love the most: technology and design. A big thanks to our members and bigger thanks goes to Minneapolis Community and Technical College for supporting us throughout these years.
You're not a member yet? Click here to become a member and be part of a very exciting group.