January 06, 2020
2019 Year in Review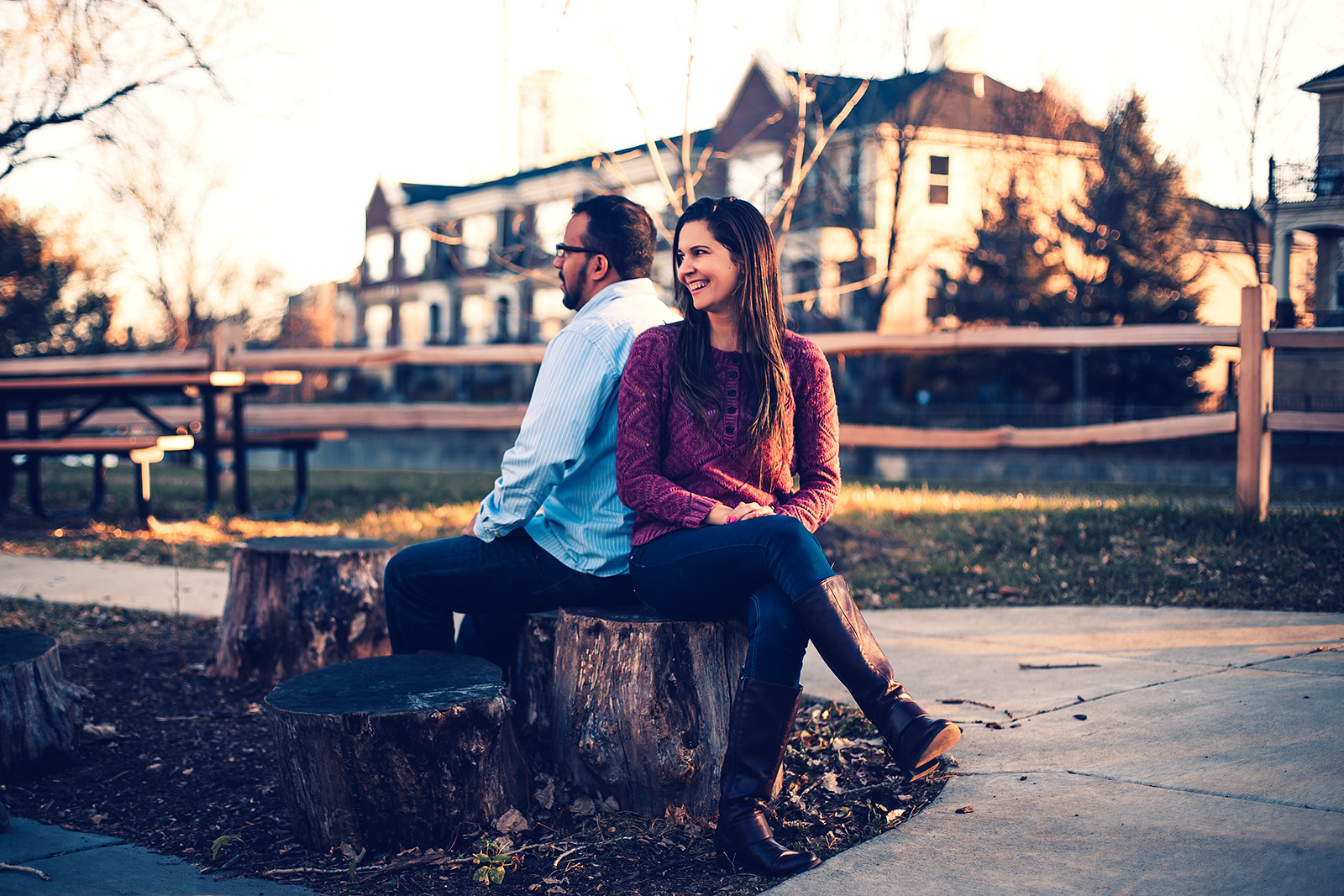 Every year my wife and I take time during the month of January to do our planning for the year. Part of the planning ritual is looking back on what worked and what didn't. Even though we have been consistent planning every year since we got married, not everything goes as planned, and that's okay. Planning is not about predicting the future or getting everything 100% right; it's about setting a direction and being intentional about where we're going.
"If you fail to plan, you are planning to fail."
Planning hasn't been an issue for me for the past 5-6 years, but writing about it sure has. Last year, I wrote a 2018 Year in Review article but I left it in my Google Drive. I didn't hit the publish button, so it never saw the light of day but this year is a little different. Dan Mall's tweet really pushed me over the edge to publish this time around. (Thanks, Dan!) I have always had the desire to share our planning (or write more often) in hopes that someone would find it useful and use it as inspiration. So here it goes…
My last decade in review
As we approach the new year, I took a bit of time to reflect on the last decade and what it all meant for me. And wow! The last decade has been nothing short of great, fulfilling, with lots of blessings and opportunities.
Accident
2019 was the 10th anniversary of my accident. For those of you who don't know, I was involved in a tragic car accident 10 years ago in Massachusetts. I not only lost a leg and had many traumas, but lost a close friend. It was really tough. Those who are close to me know how tragic and challenging my recovery was, but I am deeply grateful for those who supported me and those whom I met along the way, including my lovely wife. It's been a humbling experience for me and for that I am grateful. (Thank you if you helped me in any way!)
Startup
After two years of my recovery and being back full-time at work, I had an incredible opportunity to start a software company with two friends. The experience of founding a startup, pitching to investors, raising capital, trying to find a product-market-fit for our product and develop a business model was simply life-changing for me. I don't think you'll ever be the same person - in a good way - after starting your own company. It was really challenging but incredibly rewarding. I learned a lot and grew immensely. Contrary to conventional wisdom, starting a company is a very humbling experience.
Tying the knot
In 2014, when I was getting ready to go back to San Francisco-CA, I met a beautiful person whom I now call my wife. I met my wife Laise Moreira on February 14th, 2014 on Valentines' Day in downtown Chicago. A year later, we got married and moved in together. My life has really changed for the better since I met her. My wife is a source of inspiration to me. She's hardworking, disciplined, resilient, and ambitious to achieve her dreams.
Family
My wife and I have been working together toward our life goals. One of our life goals involves little ones. We decided to postpone having kids due to her Ph.D. program. My wife is enrolled in a Ph.D. program at the University of Minnesota, where she dedicates her time to research and development of new grapes. She's studying plant genetics and more specifically flavor compounds, in other words, she's researching the perception of flavor and what makes it happen genetically speaking. Needless to say, Ph.D. programs are very time-consuming and intense, especially when English is not your first language. We decided to pause a few goals - her successful blog with over 10k unique visitors a month is one - until she was through with the Ph.D. We didn't realize it was going to be as tough. We had to adjust our goals a couple of times for the past 3 years, which in retrospect was for the best. With that said, most of our goals have been put on pause until she's done with academia.
I made the commitment to give her all the support she needed. It is important to me that she's able to accomplish her life goals and I am committed to that.
In 2019, my wife was able to launch a sensory test - similar to user testing in our world of digital products but a bit more complex - and compile enough data to do analysis in depth. The first part of the project was successful thus far.
Career and work
For the past 4 years, I dedicated my work-life to learning and scaling a design system within a large company - Target. (Hint: It's not easy!) The design system is called Nicollet Design System. In the process, I've learned a great deal about product management, process, and scaling a product. I wrote another article to share my experience leading a design system which it'll be published soon, so I won't go into too much detail here. In summary, here are a few things we were able to accomplish as a team in 2019:
Product teams' engagement with the design system team increased significantly. It's an expectation. And It's really cool to see the word "design systems" being mentioned by leaders across the company as something they see the value and are invested in.
Our team went from 2 full-time system creators - primarily Geoff Pursell and I- to about 20 people this year including the iOS and Android teams. (We're still figuring it all out.)
We went from having zero icons in production from the design systems to having 100% of the icons in production from the design systems. Yaay!!!!! We did it!
We built an automated tool to make React components from SVGs using Sketch as the source of truth.
Design systems skill is now part of a UX career path.
Design is now taking the lead in elevating the system across the company.
Needless to say, I'm super proud to have contributed something of value to the company. And I am grateful to have the opportunity to work with amazing designers and engineers.
Here's a list of other career/work related things I was able to accomplish in 2019:
I built a Post-It app in React. (Only works in Chrome or Firefox) 😊
I learned more about business, product, and marketing in 2019 than I ever have. The books I read are a testament to that. 😊
I helped a local small startup launch a product and increase revenue from 0 to ~$40k a year.
I launched and led a Lean Startup group with Ph.D. students at the University of Minnesota focused on understanding business opportunities and how to launch products in the marketplace. This was by far one of the best experiences in the past few years.
Health and wellness
Biking & Running
2019 was not the best year for me when it comes to exercising and being in shape. The previous year I rode 1,456 miles on my bike during the warm months. In 2019, I barely did 756 miles. I need to get better this year for sure.
I'm not a big runner but my wife and I managed to run 48 miles during the warm season. Running is more challenging than biking for me but my wife really pushed me this last year which was great. I need to do more of that this year.
Therapy
I started therapy in an official capacity for the first time in 2019. To be honest, it initially felt a little awkward, but over the months, I became really comfortable sharing what's going on in my mind with my therapist. Therapy has had a huge impact on my well-being in 2019, especially when it comes to dealing with emotions and being more self-aware. I came from a family who didn't really believe in therapy unless you're having "problems", which is totally not the case at all. In fact, you don't need to be having problems to do therapy. You simply need to be curious about your own self-being and seeking growth/improvement.
New leg
I acquired a brand new leg in 2019. In total, I have three legs but only two are being actively used. The new leg is a bit more flexible than my second leg.
Travel
My wife's job is to develop new varieties of grapes. As part of her job, she gets to travel to various countries and places across the country. I usually accompany my wife when she travels across the world and the country and I get to taste the best wines. It's a win-win.
In 2019, for both work and personal reasons I visited:
Napa Valley, CA (conference my wife spoke at)
Miami, FL
Jacksonville, FL
St. Augustine, FL
Palm Coast, FL
Orlando, FL
Key West, FL
Cozumel - Mexico
Kansas City, MO
Des Moines, IA
San Francisco, CA (Clarity conference)
Boston, MA
Books
In 2019 I read 17 books in total.
Currently reading: Super Thinking: The Big Book of Mental Models
Family Finance
Personal finance has become an interest for me for the past few years. I was never taught personal finance or finance in general growing up until about 6 years ago. (still learning) In fact, handling finances and planning were a big problem within my family growing up. When my accident was all set and done, I was left with a debt of over $60k, so I knew I needed to learn and get better at it. I needed to learn about personal finance and finance in general. (My debt is all paid off now.)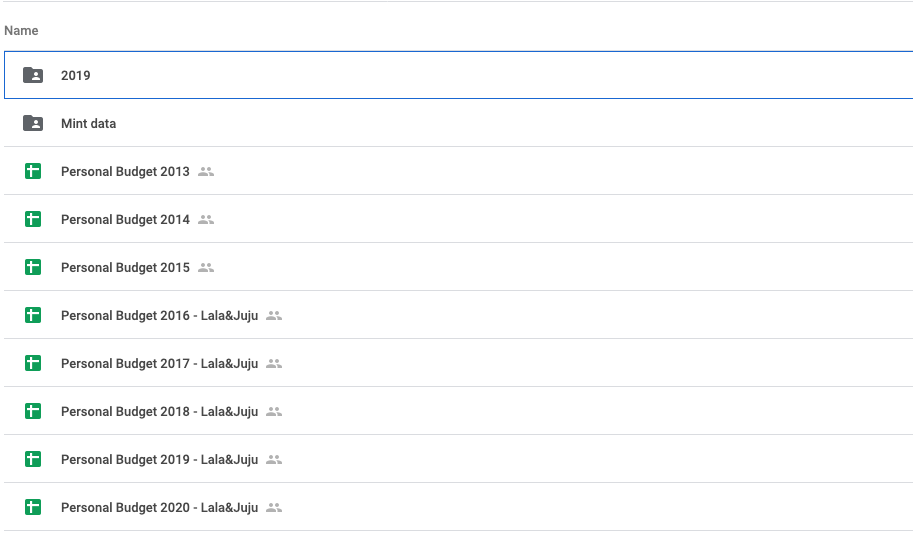 And as we start a new family, I strive to be aware of where the money is going. I've been tracking spending data since 2013 and I've created a system over the years that works for us that involves using Mint, Clarity Money, and Google Sheets. My system is not perfect and it involves a bit of work on a monthly basis primarily due to Mint not being a reliable tool (on that in a later post). Nonetheless, my system has gotten much better over the years.
I learned to enjoy the numbers behind our spending to understand where the money is going from daily decisions to long-term bets (investments). In my experience, bad decisions when it comes to money can have a negative impact long-term not only for me but for the entire family, and it can cascade down through generations. Going through this exercise with my wife has helped us become intentional spenders. As you will see below, we have a lot of improvements to make this coming year. I plan on writing an in-depth article to share my system in detail, but for now, here are a few things I learned from 2019: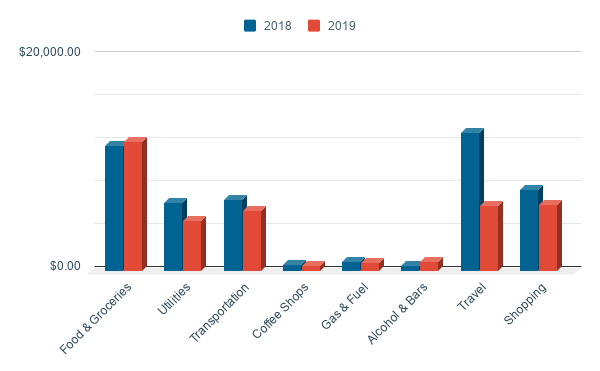 Food & Groceries: I will start with the food category. It goes without saying, but we LOVE food! My wife and I enjoy traveling and trying out a diverse number of restaurants and recipes. It's our thing, but it needs to be toned down a bit. We were a little higher than usual on food, partly because we had family visits multiple times a year.
Coffee Shops: I love coffee! My coffee consumption went down a bit from $625.75 in 2018 to $489.54 in 2019; a 22% decrease YoY. This category does not include coffee from groceries.
Transportation & Car Expenses: We did a really good job in this category this past year. We spent $5600 in 2019 compared to $6621 in 2018. It's a ~15% decrease YoY.
Shopping: We also did really well in shopping. We saw a decrease of 18% YoY. We're not really big shoppers overall, but this an area that we need to get better too.
Utilities: This is also an area we were able to improve significantly. In 2018, we spent $6,402.00 in utilities compared to $4,672.00 in 2019. That's a whopping 27% drop.
Here's a breakdown by retailers: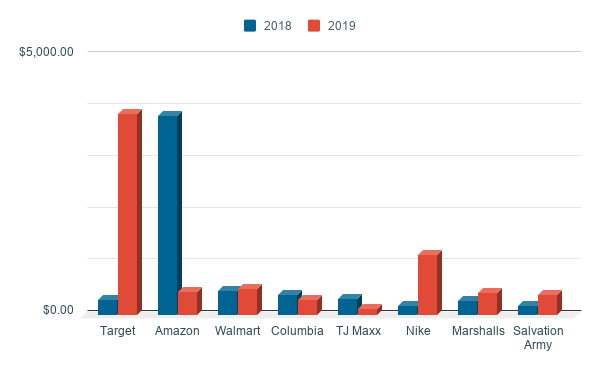 Here's a breakdown of what's in each category:
Food & Groceries: fast food, coffee shops, alcohol & bars, restaurants, groceries, food during travel, and dining.
Transportation & Car Expenses: parking, gas & fuel, auto payment, auto insurance, services & parts, registration, and an app I use to remote start my wife's car.
Coffee Shops: this is all coffee shops and Nespresso purchases.
Shopping: clothing, home, furniture, Target, and Amazon.
Looking forward to 2020 goals
We're still in the process of setting our goals for the first quarter of 2020 and beyond — it should be done within the next few weeks — but here are a few goals I've already written for the year:
Exercise at least twice a week: It could be biking, running, or going to the gym at least 2x a week. This is in addition to biking to work every day.
Therapy: more specific, focused, and with accountability. I may switch therapists in order to achieve some of my personal goals.
Do more with less: automate monthly repetitive tasks (bank and mortgage statements, Mint data, Google Sheet, etc) with Zapier.
Publish at least one article a month to my blog (12 yearly).
Attend two conferences this year.
Spend less in the food & grocery category.
Wrapping it up
As we reflected and looked at all these data points — what we accomplished, what we failed to accomplish, and what we learned — we realized that we have some work to do, but nonetheless it's been an incredible year and decade for us. Making this part of my life public is a big step for me in being more vulnerable, transparent, and more accountable.
One word that summarizes the past 10 years for me:
Gratitude.